Sewer Jetter Series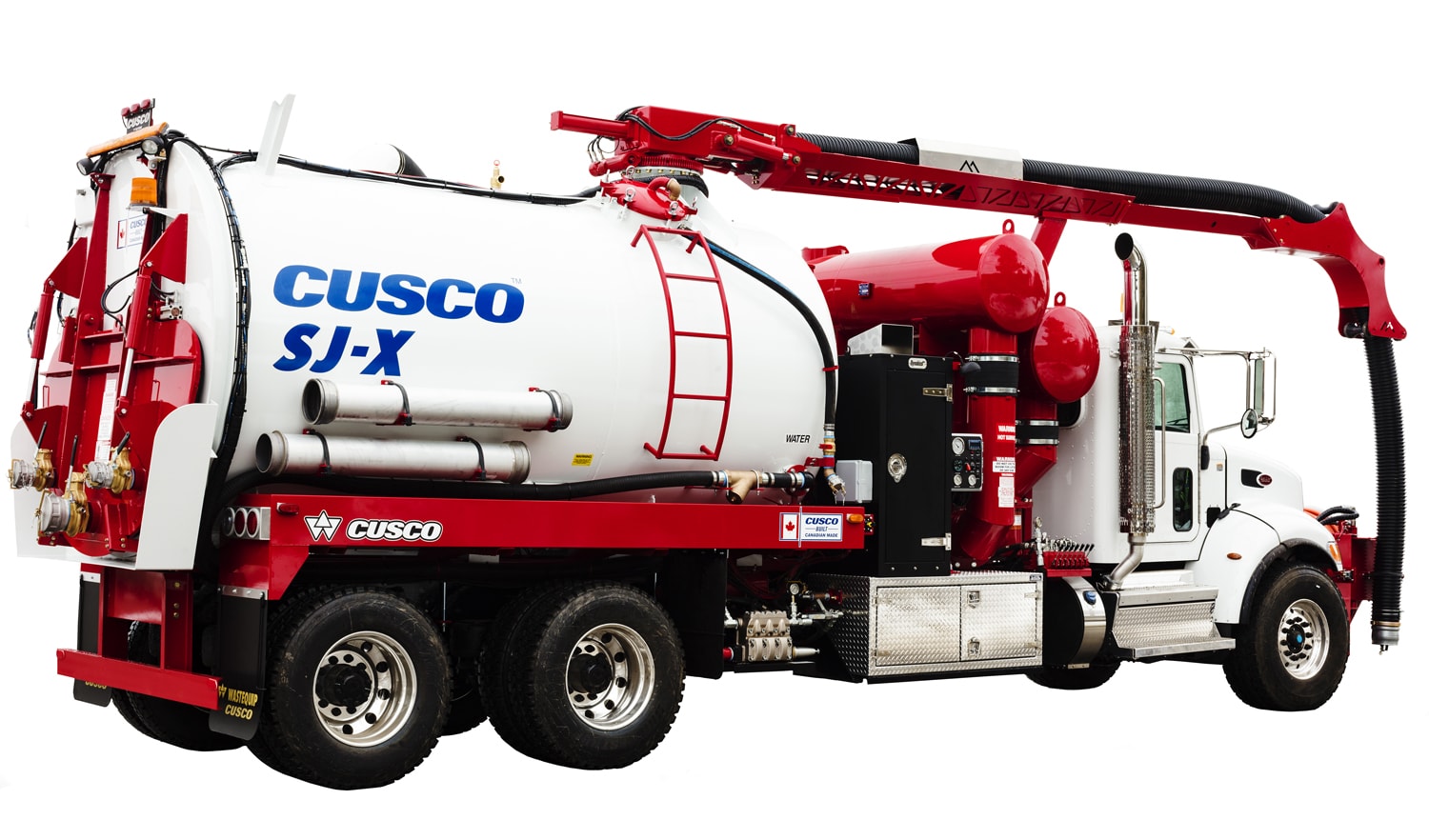 Introducing Cusco's Sewer Jetter
The underworld can be a dirty place, but Cusco's new Sewer Jetter obliterates blockages to keep you up and running when you need it most. This industry-leading truck performs major cleanups by excavating debris with a 26 ft. boom reach and a 270 degree boom rotation to reach every clog, every time. Outfitted with quality components and reverse engineered for optimal weight and payload with a superior operator control system, the Sewer Jetter is packed with features and benefits to outlast the competition.
Key Features
2500 USG Waste Tank
1400 USG Clean Water Tank
2400 PSI Jetter System c/w 600ft 1" Hose
Reverse Engineered (Optimal Weight & Payload)
Designed to 206" CA Maximum Maneuverability
Mid-Power Jetter
26 ft. Boom Reach
270 Degree Boom Rotation (non-articulated)
Superior Operator Control System
Combo Tank Design
Product Specifications
Key Design Factor
Cusco
Standard Options
Jetter
HP – Chassis
Freightliner M2-106 – 350
HP Freightliner M2-112 – 400
HP Peterbilt 348 – 350
HP Peterbilt 348 – 400 HP
Waste Tank Size (USG)
2200, 2500, 2700 USG
Rear Door (opening?)
Flat Half Door, Hydraulic Door Locks
Clean Water (USG)
1000, 1400, 1500
Blower System & CFM
27" @ 3658 CFM
27" @ 3800 CFM
27" @ 5775 CFM
Jetter System GPM
26-70 variable flow
Jetter System PSI
2400
Jetter Hose Size & Length
1″@ 600 FT
Boom Size
8″
Boom Reach
17 FT RETRACTED, 26 FT EXTENDED
Boom Controls (wired/wireless)
Std: front panelbox Canbus joystick wireless pendant
Boom Rotation
270 Degrees
Silencer/Cyclone db
<95 Db
Hydraulic Door Assists
YES
Overall Operator Controls
Std: 12vdc Plus1 microprocessor, analog control to hydraulic controls
Optional: wired or wireless pendant/panelbox Canbus joystick
Tank Configuartion
Combo Tank
Optional: Side Water Tanks
Other Key Design Characteristics
Optional: Hydro Excavation Package
FOR PRICING OR MORE INFO CALL TODAY!
800-490-3541