Liquid Ring Series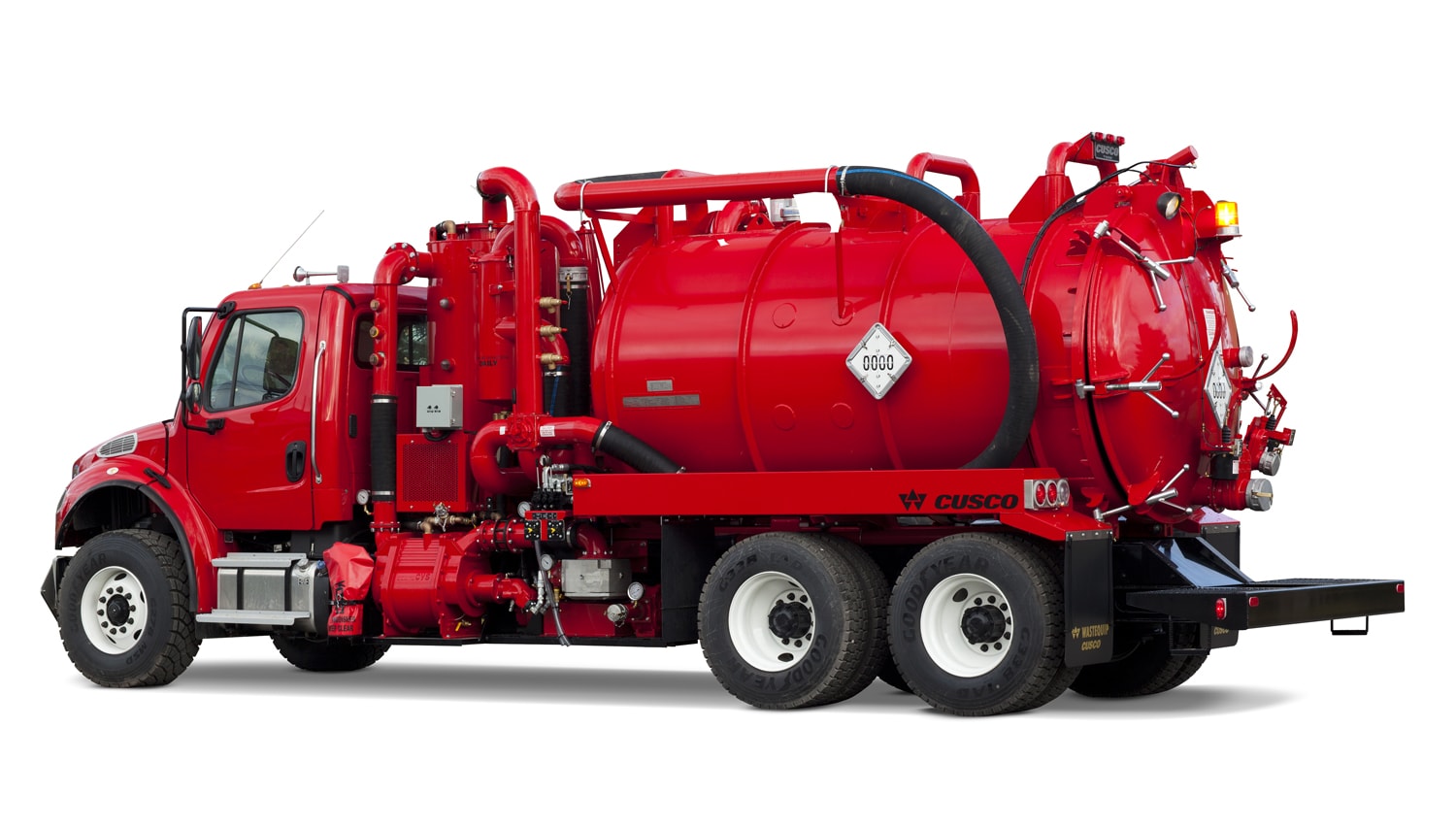 We have engineered this unit to provide our customers with an alternative to rotary lobe and vane style vacuum systems, where the application is unsuited. This system is ideally suited for the pickup and removal of liquids, slurries, sludge and dry aggregate type materials. It comes equipped with an 1,100 CFM liquid ring vacuum pump that generates 26″ Hg of vacuum, along with a reversible airflow piping system for pressure off-loading. If noise levels are a concern, this is the quietest design we make.
Available Options: High-pressure wash system, stainless steel tank construction, hydraulic suction boom, hydraulic vibrator, heated valves, truck exhaust spark arrestor, emergency hydrocarbon shutdown system, pressure off-loading nitrogen purge line, safety walkway, hose hook, DOT 407/412 and TC 407/412 configuration.
Click here to download and print our brochure of liquid waste equipment
Download Adobe Reader
---
Performance and Chassis Data:
| | |
| --- | --- |
| Required Front Axle: | 18,000 lb. |
| Required Rear Axle: | 46,000 lb. |
| Required CA: | 144″ |
| Horsepower: | 300 |
| Transmission: | Standard |
---
Tank Material:
Head: 0.3125" SA516-70
Shell: 0.3125" SA516-70
Diameter: 78"
Pump:
Airflow: 1100 CFM
Max Vacuum: 26"Hg
Drive:
Hydraulically or belt from PTO
Isolation Drive:
Single 4" air operated butterfly valve
Primary Shut-off:
4" internal with 6" SS float ball and cage assembly
Water Tank:
Attached to front of waste tank with epoxy lining, sight glasses, drain valve, suction strainer, 2" water feed line, 4" exhaust valve
Liquid Level Indicator:
SS rotary float gauge with 6" SS float ball and sight cage assembly
Piping:
4" no disconnect piping to allow tank to dump with vacuum system connected
Valves:
Suction: 4" Betts air operated/spring closing
Discharge: 6" Betts air operated/spring
Dump System:
Hydraulic: 30 ton capacity 120" stroke, 3 stage
Rear Door:
Hydraulic: Full opening with 6 heavy duty wing clamps
Vibrator:
Hydraulic: Mounted bottom of tank
FOR PRICING OR MORE INFO CALL TODAY!
800-490-3541