Industrial Vac Series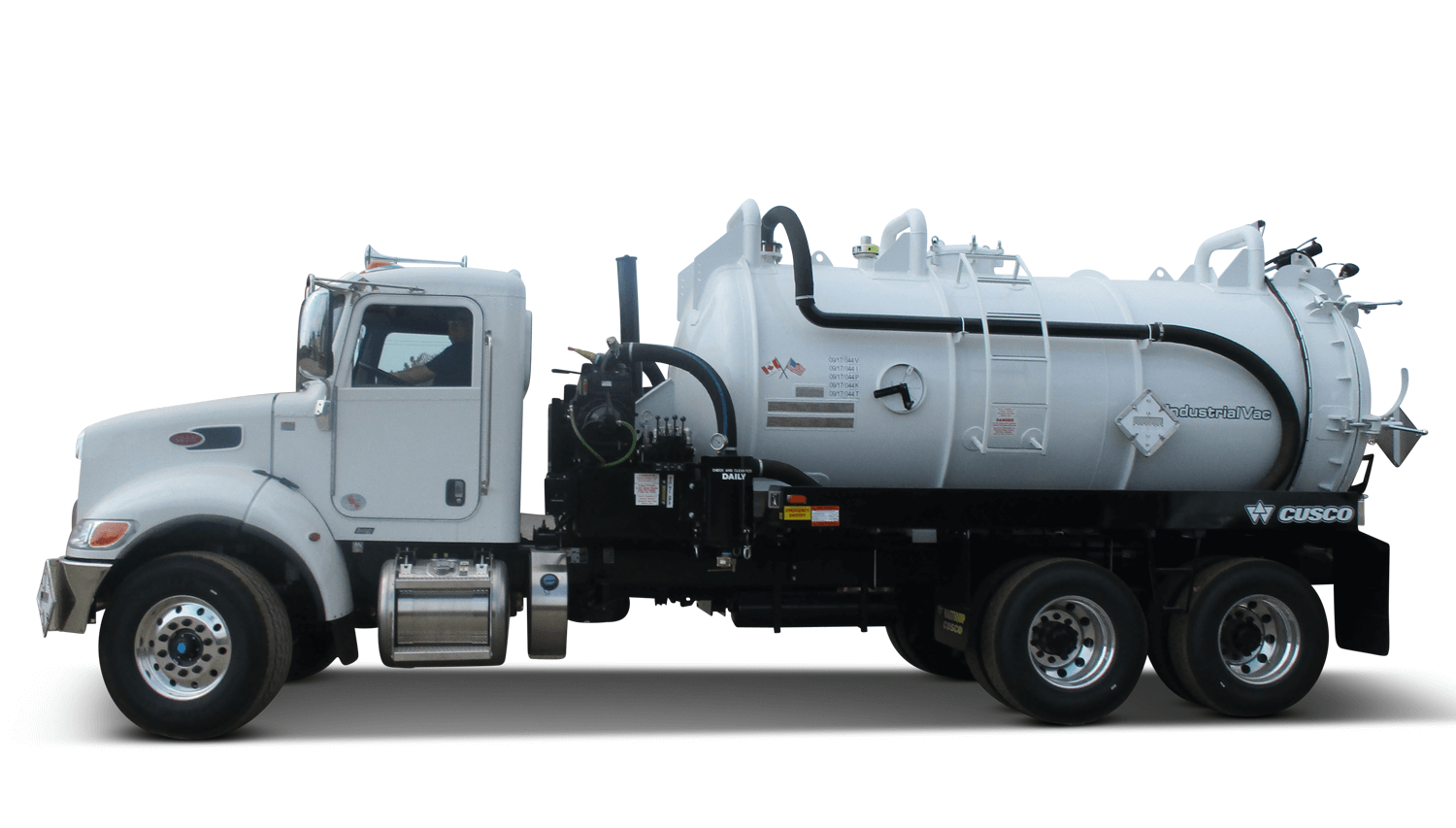 As Cusco's most popular choice of vacuum equipment, our Industrial Vac is the desired unit for industrial cleanup and environmental remediation work. The available vacuum systems range from 350 CFM to 670 CFM and generate 28″ Hg of vacuum, making it ideal for picking up and removing liquid or semi-solid waste materials. With its hydraulic operated lift system, full-opening rear door, as well as its pressure off-loading feature, this series will provide you with a safe and efficient working experience every time. If versatility is of utmost importance, then our Industrial Vac is the preferred series for your business needs.
Available Options: High-pressure wash system, stainless steel tank construction, heated valves, hydraulic vibrator, transfer pump, DOT 407/412 and TC 407/412 configuration.
Click here to download and print our brochure of liquid waste equipment
Download Adobe Reader
---
Performance and Chassis Data:
| | |
| --- | --- |
| Required Front Axle: | 16,000 lb. |
| Required Rear Axle: | 40,000 lb. |
| Required CA: | 156″ |
| Horsepower: | 275 |
| Transmission: | Standard |
---
Tank Material:
Head: 0.3125" SA516-70
Shell: 0.3125" SA516-70
Diameter: 78"
Primary Shut-off:
4" internal with 6" SS float ball and cage assembly
Secondary Shut-off:
Exterior moisture trap assembly with 4" SS float ball, filter screen and sight glass
Liquid Level Indicator:
SS rotary float gauge with 6" SS float ball and sight cage assembly
Piping:
4" no disconnect piping to allow tank to dump with vacuum system connected
Valves:
Suction: 4" Betts air operated/spring closing
Discharge: 6" Betts air operated/spring closing
Dump System:
Hydraulic: 30 ton capacity 120" stroke, 3 stage
Rear Door:
Hydraulic: Full opening with 6 heavy duty wing clamps
FOR PRICING OR MORE INFO CALL TODAY!
800-490-3541